La bande-son de la série Peaky Blinders a une place majeure dans l'univers des Shelby et dans le succès rencontré depuis le premier épisode : anachronique mais de qualité, elle mélange habilement et parfaitement le rock et le folk et met en valeur la violence et l'émotion des scènes qu'elle habille.
>> Les musiques des épisodes <<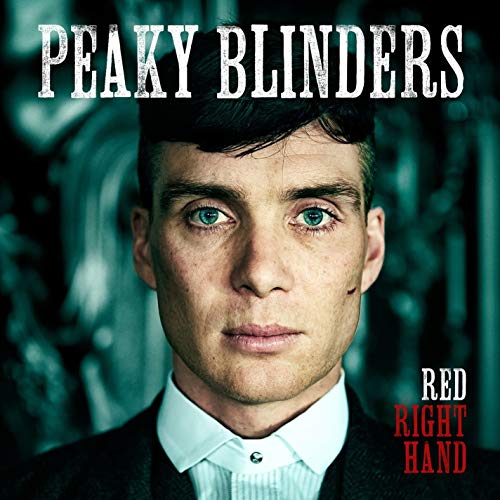 Depuis son lancement en 2013, aucune bande originale officielle n'était sortie. C'est maintenant chose faite avec, en 2019, la sortie d'un coffret exclusif double cd, triple vinyles ou en version numérique. Au programme, 49 titres pris sur les 5 premières saisons : du rock d'hier et d'aujourd'hui, du folk, du métal, un peu de pop mais aussi des courts extraits issus des dialogues clés de Tommy, Polly, Alfie, Arthur ou encore Ada.
Steven Knight : "The Peaky Blinders story and the music we use are twins, born at the same time. It would be difficult to imagine most of the pivotal moments without the soundtrack. I'm so glad that at last we have been able to put some of the tracks together on one album, to put the atmosphere and swagger and snarl of the show into your headphones and speakers."
Steven Knight : "L'histoire de Peaky Blinders et la musique que nous utilisons sont des jumeaux, nés au même moment. Il serait difficile d'imaginer la plupart des moments cruciaux sans la bande originale. Je suis tellement heureux d'avoir enfin pu regrouper certaines pistes dans un seul album, pour mettre l'atmosphère, le courage et l'accroche du spectacle dans vos écouteurs et vos haut-parleurs."
Cillian Murphy : "You just know when a song is 'Peaky'. The artists are outsiders. They have resisted the tyranny of the mainstream, shall we say?"
Cillian Murphy : "Tu le sais, quand un titre est "Peaky". Ces artistes sont des outsiders. On peut dire qu'ils ont résisté à la tyrannie du mainstream".

Anna Calvi : "The idea of evoking something genderless is definitely something that I explored on my record [2019 album] 'Hunter'. There's something about Tommy that's not just his wife or Lizzie making him have a feminine mind. There's something intrinsically weirdly genderless about him as a character. Maybe it's because it's not about him saying things – you feel his thinking just by his stare. You're almost a shadow to the character."
Anna Calvi : "L'idée d'évoquer quelque chose de non-genre est certainement quelque chose que j'ai exploré sur mon disque [album 2019] "Hunter". Il y a quelque chose à propos de Tommy qui n'est pas juste sa femme ou Lizzie qui lui donne un esprit féminin. Il y a quelque chose d'intrinsèquement et d'étrangement sans genre dans son personnage. Peut-être est-ce parce qu'il ne s'agit pas de lui disant des choses – vous le sentez penser juste par son regard. Vous êtes presque une ombre au personnage."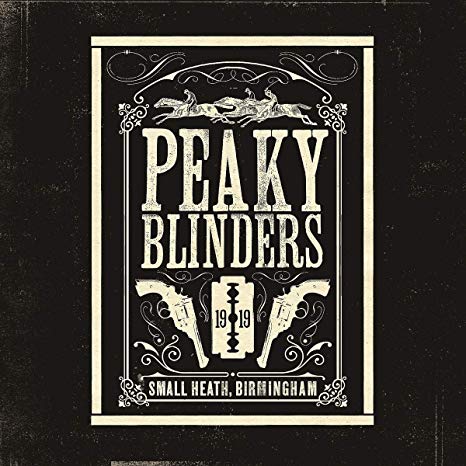 "La série à succès de Steven Knight Peaky Blinders, portée par Cillian Murphy, Sam Neill, Helen McCrory ou encore Annabelle Wallis dévoile enfin sa bande originale. Affichant une sélection musicale ultra pointue, la série événement fait la part belle aux grands noms du rock indé : PJ Harvey, Dan Auerbach, Arctic Monkey et bien sûr Nick Cave & the Bad Seeds participent à l'atmosphère si particulière, propre à la série."
Version cd Version vinyle

CD 1
01 Tommy: 'It's Not A Good Idea…'
02 Nick Cave And The Bad Seeds – Red Right Hand
03 The White Stripes – St James Infirmary Blues
04 Truce – From 'Peaky Blinders' Original Soundtrack / Series 1 (Score)
05 Tommy: 'Right I Have Bought You Hear Today…'
06 Dan Auerbach – The Prowl
07 Polly: 'There's Only One Thing…'
08 Jack White – Love Is Blindness
09 PJ Harvey – To Bring You My Love
10 Alfie: 'I've Heard Very Bad, Bad, Bad Things…'
11 Black Rebel Motorcycle – River Styx
12 Post Irish Meeting – From 'Peaky Blinders' Original Soundtrack / Series 2 (Score)
13 PJ Harvey – Red Right Hand
14 Laura Marling – What He Wrote
15 Arthur: 'Do You Wanna Tell 'Em…'
16 Royal Blood – Come On Over
17 Arctic Monkeys – Do I Wanna Know?
18 Tommy: 'I Love You…'
19 Nick Cave And The Bad Seeds – Breathless
20 Radiohead – You And Whose Army?
21 Polly: 'A Woman Of Substance…'
22 PJ Harvey – This Is Love
23 Sons – From 'Peaky Blinders' Original Soundtrack / Series 3 (Score)
24 Tommy: 'You Can Change What You Do…'
25 Queens Of The Stone Age – Burn The Witch
26 The Last Shadow Puppets – Bad Habits
27 David Bowie – Lazarus

CD 2
01 Tommy: 'Sex, Freedom, Whiskey Sours…'
02 Savages – Adore
03 Nick Cave And The Bad Seeds – The Mercy Seat (Live From KCRW)
04 Rachel Unthank & The Winterset – I Wish
05 Ballad Of Polly Gray – From 'Peaky Blinders' Original Soundtrack / Series 4 (Score)
06 Tommy: 'I'm Not A Traitor To My Class…'
07 Frank Carter And The Rattlesnakes – Devil Inside Me
08 Foals – Snake Oil
09 Polly: 'It's In Our Gypsy Blood…'
10 Radiohead – Pyramid Song
11 Laura Marling – A Hard Rain's A-Gonna Fall
12 Ada: 'So, Tommy Shelby, MP…'
13 Black Sabbath – The Wizard
14 Anna Calvi – Papi Pacify
15 Joy Division – Atmosphere
16 Tommy: 'You Need To Understand…'
17 Anna Calvi – You're Not God
18 Arthur: 'There's A Bentley Outside…'
19 Jehnny Beth – I'm The Man
20 Idles – Never Fight A Man With A Perm
21 Tommy: 'I Will Continue…'
22 Richard Hawley – Ballad Of A Thin Man

Vinyle 1 - Face A
01 Tommy: 'It's Not A Good Idea…'
02 Nick Cave And The Bad Seeds – Red Right Hand
03 The White Stripes – St James Infirmary Blues
04 Truce – From 'Peaky Blinders' Original Soundtrack / Series 1 (Score)
05 Tommy: 'Right I Have Bought You Hear Today…'
06 Dan Auerbach – The Prowl
07 Polly: 'There's Only One Thing…'
08 Jack White – Love Is Blindness
09 PJ Harvey – To Bring You My Love

Vinyle 2 - Face B
01 Alfie: 'I've Heard Very Bad, Bad, Bad Things…'
02 Black Rebel Motorcycle – River Styx
03 Post Irish Meeting – From 'Peaky Blinders' Original Soundtrack / Series 2 (Score)
04 PJ Harvey – Red Right Hand
05 Laura Marling – What He Wrote
06 Arthur: 'Do You Wanna Tell 'Em…'
07 Royal Blood – Come On Over
08 Arctic Monkeys – Do I Wanna Know?

Vinyle 2 - Face A
01 Tommy: 'I Love You…'
02 Nick Cave And The Bad Seeds – Breathless
03 Radiohead – You And Whose Army?
04 Polly: 'A Woman Of Substance…'
05 PJ Harvey – This Is Love
06 Sons – From 'Peaky Blinders' Original Soundtrack / Series 3 (Score)
07 Tommy: 'You Can Change What You Do…'
08 Queens Of The Stone Age – Burn The Witch
09 The Last Shadow Puppets – Bad Habits
10 David Bowie – Lazarus

Vinyle 2 - Face B
01 Tommy: 'Sex, Freedom, Whiskey Sours…'
02 Savages – Adore
03 Nick Cave And The Bad Seeds – The Mercy Seat (Live From KCRW)
04 Rachel Unthank & The Winterset – I Wish
05 Ballad Of Polly Gray – From 'Peaky Blinders' Original Soundtrack / Series 4 (Score)
06 Tommy: 'I'm Not A Traitor To My Class…'
07 Frank Carter And The Rattlesnakes – Devil Inside Me

Vinyle 3 - Face A
01 Foals – Snake Oil
02 Polly: 'It's In Our Gypsy Blood…'
03 Radiohead – Pyramid Song
04 Laura Marling – A Hard Rain's A-Gonna Fall
05 Ada: 'So, Tommy Shelby, MP…'
06 Black Sabbath – The Wizard
07 Anna Calvi – Papi Pacify

Vinyle 3 - Face B
01 Joy Division – Atmosphere
02 Tommy: 'You Need To Understand…'
03 Anna Calvi – You're Not God
04 Arthur: 'There's A Bentley Outside…
05 Jehnny Beth – I'm The Man
06 Idles – Never Fight A Man With A Perm
07 Tommy: 'I Will Continue…'
08 Richard Hawley – Ballad Of A Thin Man